Raise Your Glass (RYG) is a Los Angeles-based musical production show that was created to bring the excitement and music of P!nk to the repertoire of talent agencies, showroom directors, nightclub owners and corporate event planners who are seeking a top-level act to offer their client's event entertainment needs.
RYG's re-creation of one of the world's current best-selling pop/rock artist's live concert experience is a perfect fit and a guaranteed crowd-pleaser for any showroom, concert stage or corporate event where a high-energy, professional musical show that will draw a cross-generational and diverse audience into a participatory "good-time" party atmosphere is the client's goal.
The RYG Edge
RYG offers booking managers, talent agencies and event directors the following advantages over traditional tribute shows and cover bands:
The music of P!nk has universal appeal and is known globally.
Because P!nk is a current top-selling artist as opposed to a niche-era act, the demographic for the show is not limited to just a narrow band of older fans looking to relive a past-youth experience. RYG draws a contemporary cross-generational, all gender audience that cuts across any socio/economic categories.
P!nk continues to spark interest and draw audiences with each new album and tour thereby providing a market demand for an alternative P!nk experience that is cost affordable and able to come to any location a promoter is looking to build a successful event.
RYG is able to scale its show up or down to meet the needs of a diverse spectrum of venues from small to large-scale nightclubs, casino and hotel showcase rooms to corporate and concert event stages.
RYG is able to provide a turn-key solution to meet the budget and logistic requirements of any event including providing all sound and lighting* and marketing/promotional support.
RYG is able to offer both an adult oriented show as well as a family friendly version where language and costuming is toned down to be appropriate for an under 18 audience to attend.
RYG is comprised of professional seasoned artists who deliver both on- and off-stage.
*Full or partial stage backline and AVL is available for shows within a 500 mile radius of Los Angeles. Provisioning for out of range or international shows must be negotiated if needed.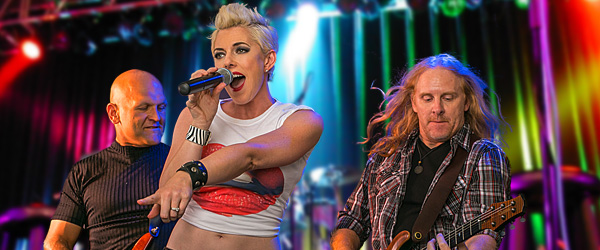 RYG consists of a four-piece rhythm section including guitar, bass, drums and keyboards. The group is fronted by lead-vocalist Katrina Danford whose sound and presence is a spot-on re-creation of P!nk. Katrina is backed by two support vocalist/dancers who together give the performance the feel and excitement of a genuine P!nk concert (click here to learn more about the RYG cast members). All the players provide backing and gang vocals and the attention to musical detail ensures that the audience will leave a RYG show feeling they have been a part of the closest experience to a genuine P!nk concert possible.
RYG is able to provide a custom-tailored show to meet the needs of any venue or booking director. The show can fit anywhere from a 30 minute to a two-hour performance as well as a multi-set requirement. RYG can also provide an adult-oriented show as well as a "family friendly" version where lyrics and audience banter is free of explicit and suggestive language. Costuming is also altered to be age-appropriate.
Every show is designed to draw an audience into having an exciting, energizing experience. RYG focuses on performing P!nk's most recognizable material with an emphasis on her up-beat songs that get audience participants to sing along as well as get on their feet and dance. Visually the show is stunning to see with costuming and production curves that take an audience on a roller-coaster ride through all of P!nk's hits. Throughout each show Katrina interacts with the audience and compels them into being a member of the show and not just a spectator.
If you are looking to provide your venue or event an live-music act that will draw a large audience into an immersive memorable experience, look no further than Raise Your Glass.
READY TO GET YOUR PARTY STARTED?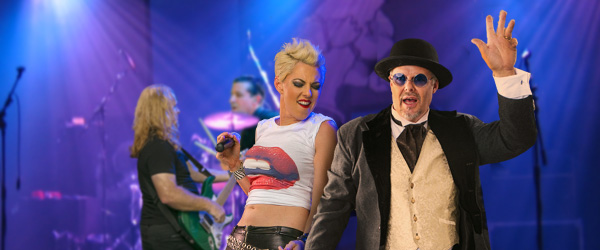 SONG LIST
Album Title: M!ssundaztood (released 2001)
Worldwide Sales: 15,000,000
"Don't Let Me Get Me"
(# 1 Billboard Hit)
"Get The Party Started"
(# 1 Billboard Hit)
"Just Like A Pill"
(# 2 Billboard Hit)
"18 Wheeler"
Album Title: Try This (released 2003)
Worldwide Sales: 2,700,000
"Trouble" (Top 100 Billboard)
"God Is A DJ" (Top 50 Billboard)
Album Title: I'm Not Dead (released 2005)
Worldwide Sales: 6,500,000
"'Cuz I Can" (#1 Billboard)
"Leave Me Alone" (I'm Lonely)
"Long Way To Happy"
"Stupid Girls" (#1 Billboard)
"U + Ur Hand" (#1 Billboard)
"Who Knew" (#1 Billboard)
Album Title: Funhouse (released 2008)
Worldwide Sales: 5,500,000
"Bad Influence"
"Funhouse"
(Top 50 Billboard)
"Glitter In The Air"
(Top 10 Billboard)
"Please Don't Leave Me"
(#2 Billboard)
"Sober"
(#1 Billboard)
"So What"
(#1 Billboard)
Album Title: Greatest Hits… So Far!!! (released 2010)
Worldwide Sales: 5,500,000
"Raise Your Glass" (#1 Billboard)
"Perfect" (#1 Billboard)
Album Title: The Truth About Love (released 2012)
Worldwide Sales: 5,500,000
"Are We All We Are"
"Blow Me (One Last Kiss)" (#1 Billboard)
"How Come You're Not Here"
"The Truth About Love"
"Try" (#1 Billboard)
VENUE and ARTIST CREDITS
The cast members of Raise Your Glass consist of experienced and seasoned performers who have years of live and studio performance hours. Here is a partial list of venues and artists RYG and its cast members performed at and with:
ARTISTS
38 Special
Greg Allman (The Allman Brothers)
David Anderson (Nashville Music Ambassador)
Robert Anthony Aviles (OCMA Award Winner)
Bob Baker (Academy Award Winner)
Joanie Bartels (RIAA Award Winner)
Elvin Bishop
Fishbone
Jackie DeShannon (Grammy Award Winner)
King's X
Molly Hatchett
Ronnie James Dio (Black Sabbath, Rainbow, Dio)
Katie Garfield (Actress)
Eric "E" Gartner (Producer: Cadillac Tramps, Joyride)
Steve Gillette (hit songwriter)
Susanna Hoffs (The Bangles)
Jai Johanny Johanson (The Allman Brothers)
Scotty Johnson (Gin Blossoms)
Greg Leisz (Grammy Award Winner)
Brian Levi (Producer: Dwight Yokum, No Doubt
Jim Monroe (Producer: Gameface, Farside, The Skeletones)
Graham Nash (Crosby, Stills, Nash and Young)
Keith Olsen (Grammy Award Producer: Pat Benatar, Heaet, Santana)
Samael
Skindred
Devon Townsend
Ulrich Wild (Producer: Pantera, White Zombie, Mission Impossible II)
Yellow Card
VENUES
LA and Greater California Area
AT&T Park (SF)
Cache Creek Casino Resort (Sac)
Coach House (OC)
Fantasy Springs Casino (PS)
Fitzgerald's (OC)
Galaxy (OC)
Gazarri's (LA)
The Golden Bear (OC)
The Grove (OC)
Hard Rock (LA and Cabo)
Harrah's (SD)
House of Blues (LA and OC)
Ice House (Pasadena)
The Key Club (LA)
Laguna Bowl (OC)
Levitt Pavilion (Pasadena)
Loaded (LA)
The Marquee (OC)
The Mint (LA)
Pala Casino (SD)
Paladino's (LA)
Playboy Mansion (LA)
The Roxy (LA)
Slidebar (OC)
Slims (SF)
The Troubador (LA)
Viper Room (OC)
Whiskey A-Go-Go
National 
Flamingo (Las Vegas)
Green Valley Ranch (Las Vegas)
"M" Casino (Las Vegas)
Monte Carlo (Las Vegas)
Shark Club (Las Vegas)
Tropicana (Las Vegas)
Alaska, US
Arizona, US
Atlanta, GA
Big Island, HI
Florida, US
Georgia, US
Idaho, US
Massachusetts, US
Maui, HI
Maine, US
Minnesota, US
New York, US
Oahu, HI
Ohio, US
Oregon, US
Osaka, JP
Pennsylvania, US
Vermont, US
Washington, US
International
Amsterdam (NL)
Dresden (DE)
Kobe, JP
Kyoto, JP
Kraków (PL)
London (UK)
Paris (FR)
Rotterdam (NL)
Tilburg (DE)
Tokyo, JP
Turin (IT)
Vancouver (BC)